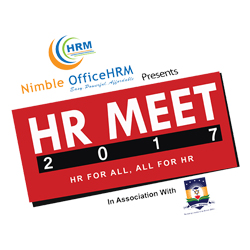 HR Meet 2017
Theme: HR for all, all for HR
Venue: Soaltee Crowne Plaza, Kathmandu
Date: March 29 and 30, 2017
INTRODUCTION
With an aim to nurture, empower and strengthen the human capital from various sectors under a single roof, Growth Sellers has been hosting HR Meets annually since its inception in 2008. After accomplishing the ninth series of HR Meet, Growth Sellers successfully conducted its tenth edition of HR Meet 2017 with the theme 'HR for all, all for HR' on March 29 and 30, 2017.
HR Meet 2017 was a two-day non-residential conference. Two high profiled resource persons Prof. Dr. TV Rao, Chairman of TVRLS and Prof. Dr. ISF Raj, the faculty at Xavier Labour Relations Institute (XLRI), Jamshedpur, India gave delivery aligning with the theme. Prof. Dr. Rao delivered his session on 'The Power of 360 Degree Feedback' and Prof. Dr. Raj conducted session on 'Reflections: The Emerging Role and Response of HR over decades'. Moreover, there were prominent domestic speakers like Dr. Swarnim Wagle, Member of National Planning Commission and Dr. Govind Raj Pokharel, CEO of National Reconstruction Authority shared about the condition of human capital in the country.
The prime highlights of this conference were panel discussion among CEOs and HR experts where they discussed about the challenges in managing HR in Nepalese Perspective. In the panel, there were Richard Howard, Country director of ILO, Sameer Kaiwar, CEO of Jawalakhel Group of Companies, Sanjib Subba, CEO of NBI, and HR heads from Surya Nepal Debasish Hait, Bina Rana and Moon Gurung. Other speakers were Chandra Kumar Shekhar, Ajay Mishra, CEO of Siddhartha Development Bank, Pankaj shrestha among others.
There were altogether 250 participants from corporate, banking, manufacturing, IT, corporations, institutions, NGO/ INGOs and other sectors across the country. Participants had excellent networking opportunities, enriching sessions of resource persons with experiential wisdom.
---
OBJECTIVES
Understand the changing landscape of global trends and implications for HR leadership teams with international and domestic thought leaders.
Examine the HR challenges, opportunities and innovation as drivers for growth.
Learn to foster employee engagement and performance with research-based best practices and tools.
Assess key factors in leading change and integrating professionals for continued success.
---
KEY HIGHLIGHTS
International high profiled speakers
Prominent domestic speakers
250 plus participants from various sectors
Panel discussions with top CEOs and HR Managers
Four parallel sessions
Certificate of attendance
Networking with stakeholders
Upcoming Events
Conducted Events